News China magazine is published monthly. Our articles cover international news, the economy, Chinese culture, the environment and much more….
We present news in an honest and open way, crafted as if we are telling a story.
Fill in the form below and save off what others pay on the newsstand.
Required fields marked with (*). All prices are in US Dollars ($).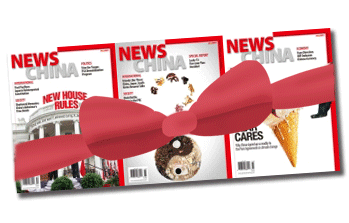 Step 1 — Your Billing Information




---
Step 2 —Add Gift Recipient Information:
Canadian postage is an additional $10 per year. Foreign postage is an additional $20 per year.
(* Required Fields)
Thank you for giving News China as a gift!
The first print issue will be on its way in 5-8 weeks. Additional time is needed for international print subscriptions.
We'll soon be sending you a gift card with which to announce your generous gift.
Have questions about your gift subscription? Click here to contact Customer Service or call 1-800-607-4410.